Artist and Public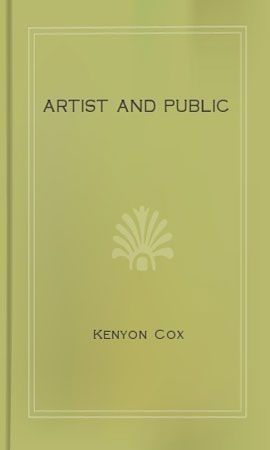 Author: Kenyon Cox
Price: FREE
Written 1914. And Other Essays On Art Subjects.
Excerp...

In England it has been responsible for a great deal of sentimentality and anecdotage which has served to attract the attention of a public that could not be roused to interest in mere painting. Everywhere, even in this country, where exhibitions are relatively small and ill-attended, it has caused a certain stridency and blatancy, a keying up to exhibition pitch, a neglect of finer qualities for the sake of immediate effectiveness.

Under our modern conditions the exhibition has become a necessity, and it would be impossible for our artists to live or to attain a reputation without it. The giving of medals and prizes and the purchase of works of art by the state may be of more doubtful utility, though such efforts at the encouragement of art probably do more good than harm. But there is one form of government patronage that is almost wholly beneficial, and that the only form of it which we have in this country the awarding of commissions for the decoration of public build
Click for more eBooks from this publisher.