Educational Leaders in Rural Australia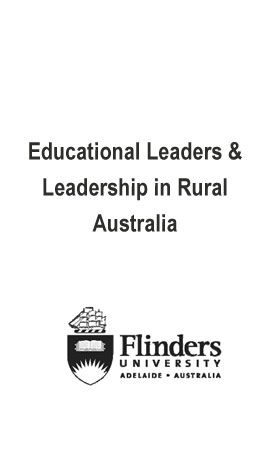 Author: Halsey, Drummond and van Breda
Price: FREE
Unless otherwise stated, in this report rural* is used as a collective term to describe all areas and communities beyond capital cities and centres with a population of &#38#8804 100,000.
There is a diversity of policy and operational definitions of rural, regional and remote locations used around the country by education jurisdictions.

Firstly, there is evidence which shows that quality and type of educational leadership does impact on learning opportunities and outcomes (Stoll &#38 Fink 1996 Crowther, Hann &#38 Andrews, 2002 Mulford, 2003 Leithwood, Louis, Anderson, &#38 Wahlstrom, 2004 Mulford &#38 Johns 2004 Wildy &#38 Clarke 2005 Robinson, 2007). In rural contexts, educational leaders are also a rich source of intellectual capital and therefore are uniquely placed to contribute towards capacity building and sustainability (Mulford, 2003 Cocklin &#38 Dibden, 2005 Alston, 2005 Masumoto &#38 Brown&#38#8208Welty, 2009 Browne&#38#8208Ferrigno &#38 Allen, 2006 Anderson, Davis, Douglas, Lloyd, Niven, &#38 Thiele, 2010).

Secondly, there is the achievement profile of rural students which is lower overall than that of their urban counterparts (SiMERR, 2006). This is most significant in remote areas where Aboriginal enrollments are high (NAPLAN, 2010). Year 12 completion rates are lower in rural areas than urban areas as are the transition rates to higher education. The Australian Government, based upon advice received from The Bradley Review of Australian Higher Education (2008), has resulted in a governmental target of 40% of 25 to 34 year olds qualifying with at least a bachelor degree by 2025. This target presents major challenges for all educators given that the present level is 29% overall. For rural educational leaders, the 2025 target is especially challenging with the current bachelor level qualification rate for rural Australia being less than 20%.

Thirdly, there is evidence, both nationally and internationally, which shows the strain that population growth has, and will have, on the sustainability of a nation.
Click for more eBooks from this publisher.