Screening and Assessment Framework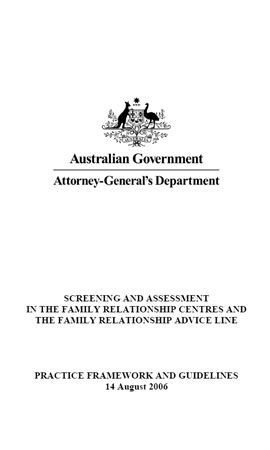 Author: Australian Government
Price: FREE
The practice framework for screening and assessment provides a structure to ensure a systematic and consistent approach to screening and assessment based on knowledge from international and Australian
Underpinning the Governments reforms is the importance of promoting healthy family relationships, preventing conflict and separation, encouraging agreement rather than litigation, and promoting the right of children to have meaningful relationships with both parents. The arrangements recognise that with some assistance most separating families are able access the broader range of services available to support them, and to develop satisfactory parenting arrangements for their children.

Helping separating parents to reach parenting agreements in joint sessions is a very important part of the Centres work. In addition to providing a broad range of information and assistance to families as they develop new arrangements for their children, the Centres will also ensure that safety issues for family members receive proper attention. Identifying and responding to the needs of adults and children who experience violence children for whom there are concerns about child abuse and partners for whom the loss and grief associated with separation can lead to serious concerns about self harm will be assisted by the use of sound screening and assessment methods.
Click for more eBooks from this publisher.